What is Sicilian Pizza?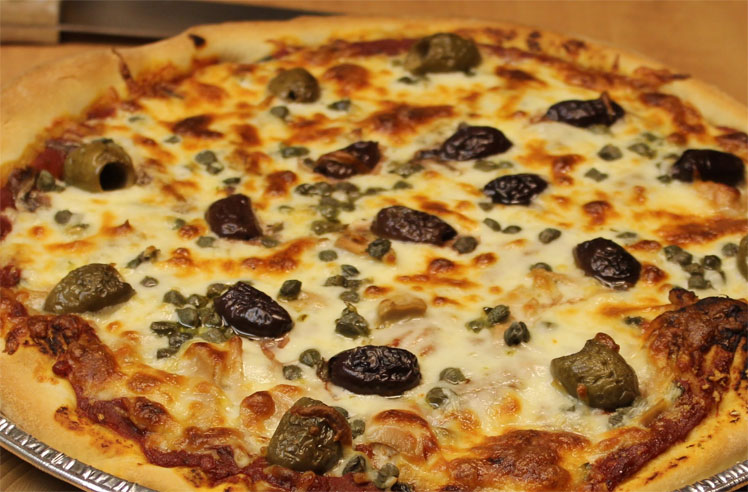 You've probably eaten your fair share of pizza over the years, but have you ever tried a Sicilian pizza? As the name suggests, it originated in Sicily, Italy. However, in the United States, you'll find a slightly different variation that evolved in the undisputed pizza capital of America New York City.
For an authentic Sicilian pizza, you'll find a thick, sponge-like crust baked into a square that is topped with a sauce of tomatoes, onions, herbs and anchovies. It's then covered with bread crumbs and usually grated hard cheese. In New York as well as the rest of America, you'll find the crust to be square and thick like the original but it tends to be topped with a simpler tomato sauce followed by mozzarella cheese.
It's said that the original Sicilian pizza evolved from focaccia bread. We have the Sicilian immigrants to thank for bringing this delicious style of pizza to America. The spongy dough is laid into a square pan with olive oil which gives it a nice crispy and slightly charred bottom. Meanwhile the middle of the pizza stays soft and spongy.
Perhaps you've seen a Sicilian pizza at your favorite pizza place but simply assumed that it was just like the round pizzas you've always eaten. It's more than a different shape though. The style of the crust is incredibly unique. And while here in America, it is rare to find Sicilian pizza made completely authentically like they do back in Sicily, you'll still find it to be divinely different than your regular pizza choices.
Do you want to try a Sicilian pizza? You can find one at a pizza place near you. Many pizza places offer a Sicilian pizza on their menu. The next time you order pizza, try a Sicilian pizza and see the difference!
---